Bethany Church Ellicott City presents the Living Proof Simulcast with Beth Moore on Saturday, September 28, 2019. Along with Beth Moore, one of today's top Bible teachers, Christian recording artist Travis Cottrell will lead worship via simulcast.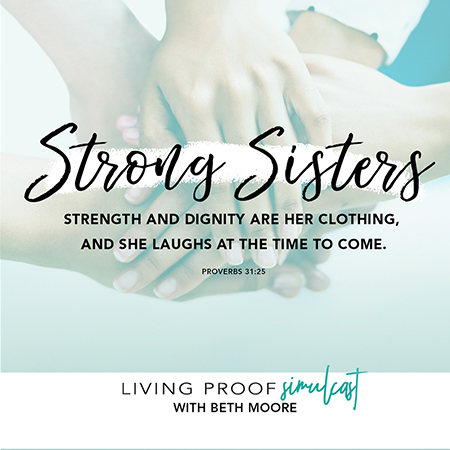 The theme for this year's simulcast event will be Strong Sisters, based on Proverbs 31:25: She is clothed in strength and dignity. Click to watch video.
The simulcast event begins on Saturday, September 28 at 9:15am and ends at 4:30pm. Bethany Church is offering early bird registration for $20 now through September 25th as well as group discounts on all groups of 10 or more. There will also be an optional $10 boxed lunch that you can sign up for during your online registration. Our lunch option includes a sandwich, chips and a drink. There are also several restaurants that are nearby if you wish to travel off-site for lunch.
Doors will open at 8 am and light breakfast refreshments will be provided.
Discounted registration offered for groups of 10 or more. Please contact Tracy Johnson for group sales at tjohnson@yourbethany.org.